You are here
Flighty Pheasant For Sale In Kansas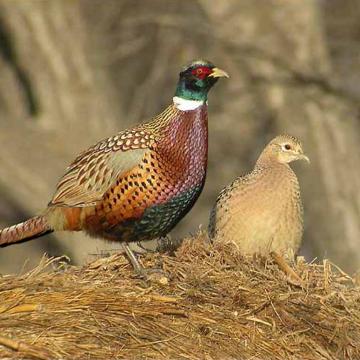 Kansas Game Birds offers only top-notch, ready to release upland game pheasant for sale in Kansas.
Our flight ready pheasant will offer you hours of endless hunting fun for you and your dogs!
Our pheasant are a great addition to any hunt whether it is for pleasure with family or colleagues or for businesses providing professionally guided hunts.
We breed Ringneck Pheasant, traditional to Kansas lands as well as Red Golden Pheasant and Yellow Golden Pheasant which are from the forested mountains of Western China.
Bird Cages / Box Traps
If you need box traps, we offer them for the purchase price OR "rental" fee of $40. Our box traps work on a manual release system but you can find vendors who sell electric remote release systems for box traps.
Bird Pricing
For pricing of our flight ready Ringneck Pheasant or Golden Pheasant, please view our Bird Prices page.
Gundog Training
If you plan on training your dogs, we recommend looking at our less expensive BobWhite Quail as an excellent way to start out training your bird dogs during the Quail season. If you are looking to train your dog out of season, we recommend our all-year-round Chukars as an alternative to our Quail.